Revelry on Richmond
Revelry is defined in the dictionary as "boisterous festivity". A recent lunch at Revelry on Richmond included quite the festive meal. This new Museum Area sports and craft beer bar has an impressive hamburger selection. Due to their many options, I had decided to start with the burger at the top of their menu, and work my way down on subsequent visits. My first choice was "The Regular", and I proclaim that this is no "regular" burger.
Perusing their menu had me salavating. Burgers with housemade pickles and picked onions?!!! #yum! "The Regular" was a freshly ground 7oz beef patty topped with cheddar cheese, shredded lettuce, sliced tomato, housemade pickles, pickled red onions and Siracha Mayo on a freshly baked crunchy artisan bun. That creative burger resembled a fine work of art. The purplish pickled red onions stared at me as if to say "I dare you to resist". Well, of course I didn't, promptly cutting that burger in half and taking my first bite. The flavor burst was quite amazing - the meat perfectly cooked to medium with that blackened charred crust. The cheddar cheese melted into the patty with a nice gooey texture, but the punch came from the picked pair on the burger. The Siracha Mayo added a nice kick. The crunchy bun, evenly grilled, had a delectable chewy center. I don't think I paused between bites, thoroughly enjoying every last one. Revelry offers a good assortment of creative fries, my favorite being the Parmesean Truffle selection. My "Burger Buddies' agreed - we had gone to burger heaven and would return often.
Happy Hour & Dinner, Mon.-Sat.., 1613 Richmond Ave., 832-538-0724. revelryonrichmond.com $-$$
Cheers to Eating More Burgers!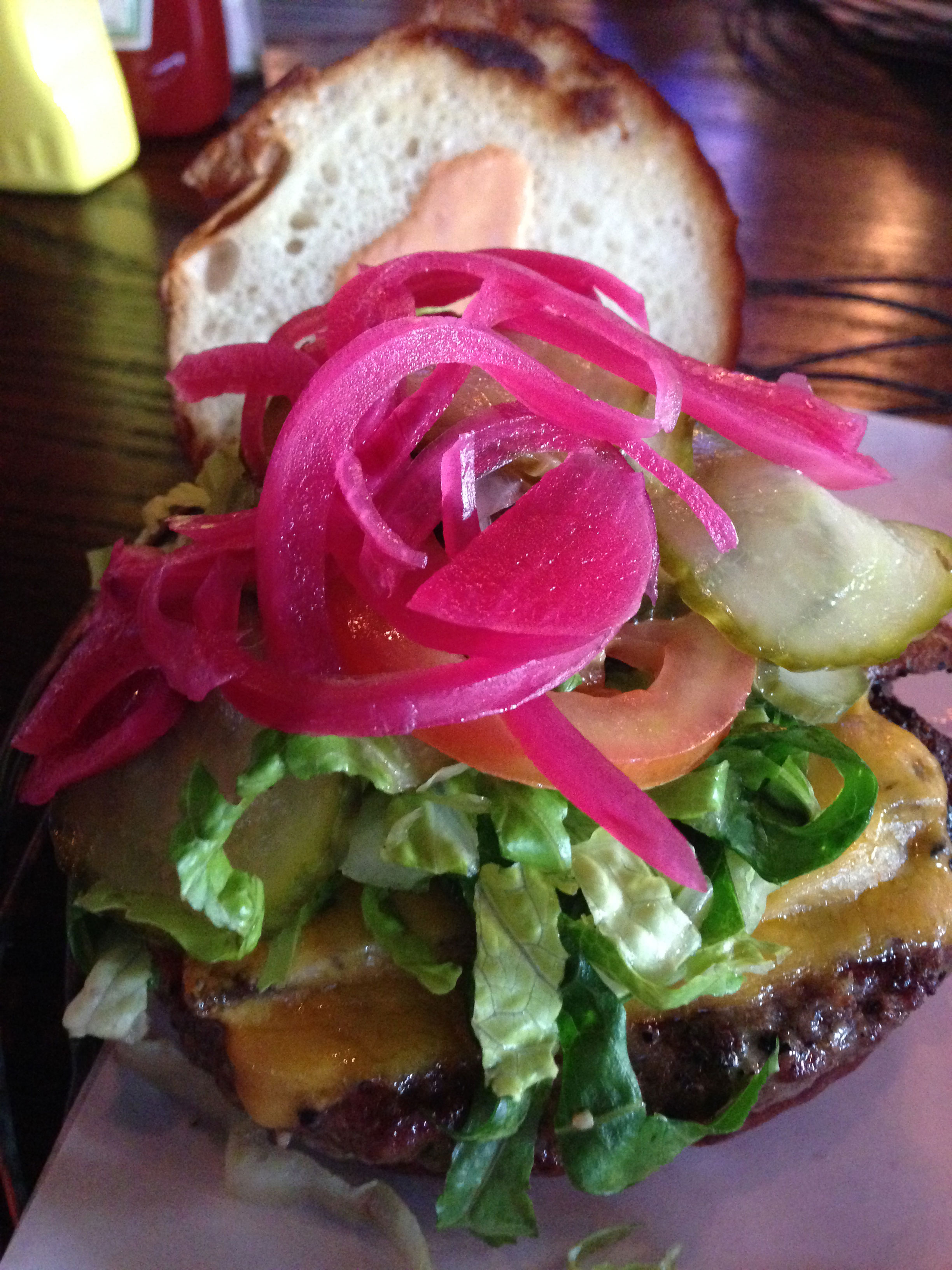 Rodeo Goat
I am excited to have started venturing across Texas in my quest for the best burgers around. After announcing a recent trip to Dallas, a friend of mine in Ft. Worth suggested their burgers were worth trying. I took his dare and challenged him to pick a place for us to meet so I could experience a "Cowtown" Burger.
After careful consideration, he presented Rodeo Goat as our burger destination. That name alone made me curious, and looking at their menu convinced me he had made the right Ft. Worth selection. Located in the historic warehouse district, the Hill Country industrial decor is quite inviting, as is their awesome patio. Add great burgers (meat fresh ground on-premises several times a day), along with a stellar craft beer and whiskey selection, and I knew I was in store for a real treat.
Of course, the shining stars here are their unique and creative hamburgers. Take mine for example - The Whiskey Burger. Fresh ground thick and juicy patty, Irish whiskey cheddar, bourbon-candied bacon, blackberry compote and whole-grain mustard. This was quite the contrast in flavors. I am generally not a mustard fan, but our server told me that the mustard would not over-power the meat, and might add to my culinary enjoyment. On my next visit, while quite good, I will forego the mustard.
The Whiskey Burger was cooked to near perfection at medium. The juiciness came directly from their charring the patty on the outside, holding those juices hostage. The freshly baked (chewy & soft) bun, along with hand-cut fries, completed this burger adventure. The atmosphere is just so darn cool, and contributed to a great afternoon of hamburgers with a buddy. I'd give Rodeo Goat a thumbs up for creativity, location, atmosphere, selection, and for the burgers themselves!
Next stop in Cowtown - Kincaids' original Camp Bowie Location!
Cheers to Eating More Burgers!
Hughie's
Nothing in my hamburger world is more exciting than stumbling upon a new burger find. Especially when I am not expecting to find a burger on the menu. But, such was the case recently as I was driving through the Timbergrove / Lazy Brook area of town and came across Hughie's Tavern & Vietnamese Grille.
This unassuming former Dairy Queen/Queen Burger spot is known for their Vietnamese specialties and impressive selection of craft beers. The owners came to this country in the early 1980's with a goal of sharing their family recipes and joy of fellowship with the community. They have blended both perfectly at Hughie's. With the goal of ordering the traditional Vietnamese Banh Mi Sandwich, my eyes focused on the Banh Mi Hamburger that was front and center on their menu. I immediately thought - the best of both worlds.
The Hughie's cheeseburger presented was breathtaking. Hand-formed, house ground angus beef, topped with all the classic Banh Mi Vietnamese vegetables - shredded pickled carrots, cucumbers, sliced fresh (potent) jalapenos, leafy lettuce - accompanied the evenly melted cheddar cheese and special Vietnamese mayonnaise, topped by a nicely grilled and fluffy bakery bun. A side of seasoned batter fries complimented the hamburger.
Eagerly taking my first bite, I was greeted with a myriad of flavors and some very spicy overtures. Juiciness sprang from the burger as fire from the fresh jalapenos hit my tongue. The Hughie's cheeseburger made quite the first impression. So much so, I have been back 3 more times in as many weeks. With friendly and impeccable service, why would I not become a regular?
Stanton City Bites
I have been very excited about posting this blog. First of all, Stanton City Bites offers the best burgers in Houston! For that matter, some of the best burgers I have ever eaten come from Stanton's. Second generation owned by the family of the late Art Fong, these burgers are total deliciousness defined. The meat (chuck) is ground daily on site with brisket, for a sweet taste to balance out the salty flavors of the burger. Last night, with two friends, I enjoyed my regular - Bacon Chesseburger with a light amount of mayo, lettuce, onions, jalapeños, and a fried egg - topped on a homemade Challah bun, along with FRIED BACON ON THE SIDE!!!!! This was perfection - the egg lightly oozed as I took my first bite. And the taste just kept getting better until my plate was clean. Add onion rings, scrumptious Italian seasoned fries, and fried pickles (using their new and improved recipe with panko/breadcrumbs), and you have the best meal in town. Okay, so it's not the healthiest, but I sure felt great after I finished eating. Everyone concurred - this was the best burger ever!
Side note, the late owner's wife, Theresa, runs the place now, and her goal is to make the best burger possible. She told us last night that she can tell if she makes a bad burger, and that upsets her most. She is so committed to making Stanton's a great experience. She presented us with one of her "whipped up" items last night - stuffed grilled red pepper that had chicken cheese and corn inside, along with her secret spices. Talk about an explosion of flavors! Delicious.
So, you have to eat at Stanton's - no ifs, ands, or butts....and eat there often. Theresa will be glad you came, and so will you! Just like Maite and Kerman were glad they came! Great to be with you both!
Cheers to Eating More Burgers!
Guru Burger & Crepes
The term Guru can be defined as meaning master. This term is befitting as the name of a place I recently visited for one of my burger adventures. Guru Burgers & Crepes in Sugar Land offers a very masterful hamburger on their menu. A quaint cafe in a popular urban town center setting, the personal service and attention to detail made for a tasty and enjoyable adventure.
With several burgers to chose from, my selection was The Pancho - Grass-fed Texas Aakaushi beef, local jalapeno bacon, pepper-jack cheese, roasted jalapeno, homemade guacamole, fresh tomatoes, Bibb lettuce (not my favorite), and house made pickles, served on a Challah bun. As served, the presentation was simple yet creative, with green parsley pieces sprinkled on the plate and the burger itself. The cheese was nicely melted over the side of the glistening and juicy patty.
With the first bite, juices and flavor contrasts were abundant. The sweet taste of the bun, contrasting with the bite from the jalapeno bacon, roasted jalapenos, and pepper-jack cheese created euphoria with every bite that followed. I don't even remember pausing between bites before I noticed I had eaten the entire hamburger. Adding sides of Beet Chips and Sweet Potato Fries only sweetened the deal. And, for those who enjoy a libation, Guru offers a nice wine and craft beer selection. as well as an inventive menu of non-burger dishes.
Guru Burgers & Crepes is local, fresh, and serves great food. While I don't eat there as much as I should, I will surely be back soon and often. The drive to Sugar Land Town Center is surely worth the trip for such a master burger destination.
Shepherd Park Draught House
Birthday Burgers And The Quintessential Question Of "Best Burger In The City"
Tucked neatly into the corner of a strip center in Garden Oaks, Shepherd Park Draught House pops from the moment you walk in. Small booths line one wall, and a long row of taps lines the opposite wall behind the bar. Small, cozy, with lots of beer – my kind of place. Before I go too far, let me give a shout-out to Burger Buddy Scott Scheinthal, as this was his official birthday lunch. Happy birthday, Scott!
There are four Akaushi beef burgers on the menu, and three of them looked so good Scott, Russell, and I almost split them up between us. We ended up with two choices: Russell and I chose the Poblano Burger with pepper jack cheese and poblano peppers, and Scott picked the El Chito Burger with bacon, fried egg, two kinds of cheese, and cranberry preserve. Sides ranged from a salad (really?), bacon mustard potato salad, and my choice, good old house-cut fries.
We get asked the question "What is your favorite burger in Houston?" all the time, and there are so many good burgers in Houston it gets harder and harder to answer that question. Fancy burger or back-room burger joint? Fast food or gourmet? Best bun or best meat? There's no real answer… but sometimes a burger hits all the right notes, and that's what happened at Shepherd Park.
From presentation – top bun slightly off center – to the very last bite, we all agreed that this may be one of the best burgers in the city. The bun is pillow-soft and buttery, and the meat, cooked just right, had a delicious juicy flavor with a hint of black pepper. My poblano burger had a layer of not-too-spicy peppers that gave it a nice kick. Scott's El Chito was even better, with bacon and fried egg and cheese, and Whoa Nelly that cranberry preserve. It all blended together so well, with such rich lively flavors, and I never thought of having cranberries on a burger!
Though 610 and North Shepherd is outside my normal Bellaire stomping grounds, this burger is worth the trip. We try different burgers every month, but I'm going to find a reason to return to Shepherd Park, and I don't say that very often.
Cheers to Eating More Burgers!
Cottonwood
Burger At The (English For) Alamo
Cottonwood is English for Alamo. Pub inspired fare, Cottonwood (in Garden Oaks) is one of the best dives in the area. Part bar, part pub, part band venue, along with the best patio I've seen in a long time (fire pits, games, live music, etc.), this is a great place for a birthday celebration. This weekend, we joined our good friend, Suzy, to celebrate her birthday. This great party was the brainchild of her loving husband (and one of my burger buddies) Scott, who chose this place not knowing it was one of my favorite bar spots, having one of the best whiskey/bourbon selections in town!
But, Cottonwood also offers a great burger selection, and I've never had a burger here. Well, that is now in the past with my pure enjoyment of The Squirrel Master Burger (rated in 2013 as one of Houston Press' Top Ten Burgers)! Okay, let's set the stage, making a note that this is not the typical burger I usually order. This was a Poblano stuffed burger, with a jalapeno fried egg(!), pepper jack cheese, and bacon. After ordering, it seemed like it took forever for my burger to arrive. Part anticipation, part hunger, and part the busy and bustling crowd. But, once it came, I snapped my photo, cut the burger in half, and took the first of many bites.
The burger was perfectly cooked to order - medium. The taste was extremely good - a crisp crust on the patty with a pink center and juicy to perfection. The jalapeno fried egg added a great spicy kick to the burger, but did not overpower the flavor of the meat. To me, a great burger is one where the patty is the main attraction, and this is one of those burgers. The fresh baked bun, however, was totally tasteless up against the other flavors. While I prefer a bun that does not overpower the burger, I am fond of one that offers a little flavor contrast. When I took a bite of the bun without the burger, it had a slight sweet taste, but that was lost when taking a bite of the full burger. This is not a major complaint on my part, but more of an observation. The bun is a very important part of any burger I eat, but this bun did not impact my burger experience in either a positive or negative way.
For me, Cottonwood is definitely a destination. One can enjoy an awesome burger, a great whiskey, an amazing patio, and entertaining live music. I eagerly anticipate my next visit to try the other burgers on their menu. That jalapeno fried egg made this burger special, along with my Eagle Rare Manhattan! Cottonwood is English for Alamo, but should also be English for burger euphoria!
Cheers to Suzy on her birthday and to Eating More Burgers!
Moon Tower Inn
To the Moon, Burger Lovers!
Have you ever been to one of those places that are so quirky that turn out to be one of the coolest spots around? I visited one such place last Saturday - Moon Tower Inn. I had heard so many good things from various people about this place. When the name was first brought to my attention, I decided to visit their website - http://damngoodfoodcoldassbeer.com . The web URL itself is damn cool, but wait until you see their website. The message is loud and clear! Check it out.
Moon Tower attracts all kinds - yuppies, business professionals, earthy types, stoners, and bikers. And, last Saturday, each of these groups was well represented. I was, definitely, not out of place. I walked up to the window and placed my order. They offer 2 burgers - "The Cheech" and "The Chong" (see a pattern here?) I opted for "Cheech", adding, at their suggestion, a Dr. Pepper marmalade. YUM!!!!
Let me tell you - when that burger came out, I was astonished. It looked like a mountain of burger. The bun was soft with a sweet flavor. The meat was good, although it wasn't pink, but grayish in the center. However, given the fact that they didn't ask how I wanted it cooked, I couldn't have expected perfection. And, overall taste of the meat, Pablano pepper, that delicious Sambal mayo, bacon and DR.P Marmalade, along with the Chevre, was really amazing. If one of these items had been left off, I'm not sure the burger would have been as good as it was.
All in all, I'd go back. For the burger, the people watching, and to embrace this quirky little gem on Canal, right around the block from the original Ninfa's! (Fun Fact - my Grandfather and his cousin once bought this entire neighborhood to build a subdivision, and if you look a the legal description (on a plat) of any property in this area, you will see the subdivision listed as "Leon & Sampson Subdivision". My Grandfather was Robert Leon, and his cousin was Abe Sampson.) So, I guess it was almost like coming home! Definitely worth the trip.
Cheers to Eating More Burgers!
Downhouse
Kimchi!
Kimchi - is a traditional fermented Korean side dish made of vegetables with a variety of seasonings. Quite tasty. Add that and a fried egg to the incredible burger at Down House, and you have their totally awesome Kimchi Burger. Many "taste buds"experiences here. As a burger lovers, I appreciated the eight ounces of thick and juicy Augustus Ranch grass-fed Texas meat patty topped with cheese, kimchi and a sunny-side up egg. The challah bun -- soft, moist and slightly sweet -- was well accented with bulgogi sauce, the Korean equivalent of a teriyaki marinade. All melded together -- the sweet and spicy, tangy crunchiness of the kimchi, the runny creaminess of the egg, the bulgogi sauce and juicy patty -- it made for one outstanding burger. The side of fries was crispy and generously portioned - so much so that I was not able to finish the fries!
Cheers to Eating More Burgers!
Bosscat
Bossburger
A recent Newport Beach addition to the Houston restaurant scene, Bosscat Kitchen & Libations, on Mid Lane near River Oaks District is one cool cat! With their cool exposed brick interior, large garage doors opening to an outdoor eating area, one of the best whiskey selections in town, this cool spot also highlights two hamburgers on their menu, including their namesake Bosscat Burger, pictured below.
The Bosscat Burger's ingredients blend together to make a delectable meal. In-house ground beef is complimented by bacon, cheese, black garlic sauce, lettuce and tomato on a cornmeal-dusted bun. The juices flowed with each bite, and while the bun might look dry, it is anything but! The toasted middle and fluffy top offered the right combination of moistness and flavor. I ordered a very generous side-portion of Bosscat Fries - crunchy wedge fries with a tender center, made from their secret recipe, and accompanied by chow-chow catsup. And, to wash it all down, I enjoyed a shot of Elmer T. Lee bourbon.
The service at Bosscat is attentive and friendly. The atmosphere is relaxed with that cool vibe. Their convenient location and ample parking in the garage, or valet, makes this a go-to destination on my burger list. I have enjoyed many visits, and suggest you do the same, and soon.
Cheers to Eating More Burgers!
Kenny & Ziggy's
Burger from a deli?
When my friend and "hamburger-partner-in-crime", Scott, told me that Kenny & Ziggy's deli had a great hamburger, I was skeptical. But, last Saturday night I was with his brother and sister in law trying to figure out what to eat for dinner. Our choices, I was told, were as follows - Pizza, Mexican Food or Fried Chicken. I nixed Mexican, but thought out loud "There's never a bad time for a burger." (to no one's surprise). I mentioned Scott's affinity for K&Z's burger, so we rang up Scott, he confirmed his claim, and we ordered.
Cut to the burger - undoubtedly the best burger I've ever eaten. Made from Pat LaFrieda Meat (ground chuck and short rib) flown in from New Jersey, topped with layers of crumbled beef bacon, fried onion strings, gouda cheese and hickory sauce on a homemade challah sesame seed bun. I highly recommend you run, don't walk, to Kenny & Ziggy's the next time you have a burger craving. Maybe I'll see you there!
Cheers to Eating More Burgers!
Plonk
Neighborhood Burger Jewel
One great thing about the Houston Heights is the number of exceptional and unique restaurants and bars. I love eating and shopping local, and this area gives me that opportunity in great quantities. Garden Oaks is an quaint neighborhood just north of the Heights. One such find, tucked away in the corner of an updated 43rd Street strip center, is "Plonk! Wine and Beer Bistro", a place that many friends had been to, but we had not. For sometime, I had been wanting to experience this place named for a term that means "derogatory wine" - indeed, my visit here was anything but derogatory!
Yes, I had heard they made a very good burger, so I was not one to try something else. While we started with wine (Malbec for me, Pinot Grigio for Susan), along with a Scallops appetizer, I ordered the $14 Guanciale Burger - Hand-Formed Angus Beef Patty, Niman Ranch Guanciale, Gruyere Cheese & Caramelized Onions on their signature Shallot Bun served with BAKED! Sweet Potato Fries! While I was doing my usual photography, Susan cut hers in half, and commented on the juiciness of the burger. So, I really couldn't wait for my first bite.
My first bite taken, I enjoyed the taste, but felt there was something missing, which I kept commenting on to Susan. The meat was cooked perfectly, it was juicy, the bun, caramelized onions, cheeses and Guanciale proved quite flavorful, but the meat itself was not overly "biting". But, once dipping into the side of the accompanying secret sauce, I GOT IT! That was the missing piece. To fully experience the meat and dipping it into the sauce for a true compliment of aromas, tastes, and flavor. From that point on, I just took bite after bite. And, those sweet potato fries - hand cut sweet potatoes with cayenne pepper and molasses were the most incredible ones I had ever eaten! EVER EVER! (No, this is not a Taylor Swift song!) Just take a look below.
So, there are a lot of great things to say about Plonk! But, since this is a burger blog, I've told you about the burger. When you go to try it out for yourself, you can see all the other cool things about Plonk!
Cheers to Eating More Burgers!
Bar Louie
Regional burger spots have entered the Houston market over the last couple of years. One of those is Bar Louie, recently opening in the Sugar Land Town Center. While the name my not imply that they specialize in hamburgers, their menu tells a different story, with an entire section devoted to burgers.
Choosing which burger to order was not easy, but considering I love whiskey as much as I do a good burger, the choice quickly became obvious. The Spiked Bulleit Bourbon Burger had my name written all over it. Covered in a zesty house-made sauce spiked with Bulleit Bourbon, the meat is an 80/20 blend of chuck and brisket, topped with cheddar cream cheese, applewood smoked bacon, and crispy onion rings topped with a fresh baked challah bun. With all these ingredients, the burger had to be a winner. And it was!
The sweetness of the fluffy bun was the perfect companion to a juicy cooked to order (medium) patty with contrasting flavors from the meat mixture. The crispy onion strings and applewood bacon complimented the cheddar cream cheese which enveloped the burger, creating explosion of flavors. In my opinion, this was near burger perfection. The fact that this burger was served from a Chicago-based chain is quite impressive. I only have six burgers left to try from their menu.
As their name implies, Louie serves some impressive craft cocktails, as well as inspiring appetizers, salads, and flatbreads. However, with their burger menu, there is no need to order something else.
Cheers to Eating More Burgers!
Bellaire Broiler Burger
BBBV (Bellaire Broiler Burger Virgins)
Today was a treat - watching 2 Bellaire Broiler Burger virgins sample their first flame broiled works of art! 2 co-workers, both of whom had never experienced the perfection that is BBB, joined me for lunch. From the minute we walked in, I knew they would instantly fall in love with this classic burger joint. Betsy was most impressed with our order taker - a "progressive" looking and witty blonde haired woman with "Daddy's Girl" tattooed across her chest. (This would become the topic of part of our lunch conversation)
Cut to the burgers - Betsy had the #3 with cheese, which she fully devoured, along with her side of Onion Rings. Casey had the #3 with cheese and mushrooms, and enjoyed every bite. Each one embraced their "virginity" loss with much pleasure. Watching them brought me much pleasure - but, let's be honest - I lost my BBB virginity decades ago - but oh how I remember my first time!!! (Do we EVER forget our first time?)
So, moral of this story - co-workers will fall in love with you all over again if you take them to BBB for the very first time!
Cheers to Eating More Burgers!
Urban Eats
There are so many new places for burgers in Houston, and I intend to try each one. The recently opened Urban Eats & Market on Washington Avenue is quickly becoming one popular spot. With a local market and sandwich counter on the street-level and full-scale restaurant upstairs, there is something for everyone to feast on.
Known for their sliders, I immediately perused the menu for the burger option, The Cowboy. Served as a pair on a fluffy sesame bun, these sirloin burgers are topped with cheddar cheese, bacon, onion strings and house-made spicy bourbon bbq sauce. Sounds like a mouthful, doesn't it? I made no special requests for the burger other than to order it cooked medium.
My awesome server Brian brought out the sliders, which was paired with greens and a side of thin fries. After taking the obligatory photos, I proceeded to cut one of the sliders in half, displaying the vibrant pink center cooked just as I ordered. With the first bite, the flavors melted in my mouth combining a delicious combination of tangy and sweetness from the various ingredients. One did not over power the other, but the flavorful charred patty stood tall among the rest. The fries possessed the perfect crispy/tender ratio, and the side of greens in balsamic topped with grated parmesean was quite refreshing.
One word of caution - don't think just because you are ordering sliders your meal will be small. These nicely sized sliders are quite filling - so much so that I was only able to finish one, taking the second one back to my office which I enjoyed for a mid-afternoon burger snack. Urban Eats is one cool burger spot, and the Urban Cowboy has never looked so good.